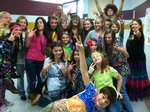 Kids Against Drugs Peace Out!!
Kids Against Drugs
School sponsored activities aimed to help students make good choices to be "Drug Free".
KAD will be selling Valentines in the cafeteria during lunch on February 7-10. They are $1.50 each and consist of a large card with a large lips-shaped lollipop. They will be delivered to your Valentine's home room on Valentine's Day!!! Send some LOVE!!!
<3 <3 <3 <3 <3 <3 <3 <3 <3 <3 <3 <3 <3 <3 <3